Have you ever had a bad hair day, but couldn't figure out why? Or have your favorite stylers suddenly stopped working for you? If you answered yes, your protein moisture balance may have been off.

Protein moisture balance is one of the most difficult concepts for curly girls to learn – but once you get it down, it is the key to unlocking great wash days! Watch my video here or scroll to keep reading!
Would rather skim through this info? See below!
History
Before we hop in, I do want to make clear that I didn't come up with this concept! I did some digging online and was not surprised to find that the first mentions of protein/moisture balance were on Black haircare forums. The earliest posts I could find dated back to 2003, though many of these forum posts referenced now-defunct websites, meaning protein/moisture balance is likely far older than Google can display.

Remember: we owe the way we style our curls to Black women, not the Curly Girl Method, or YouTube, or Instagram.

Now let's hop into it!
Hair is absorbent.
When you're using your cleansers, conditioners, stylers, etc. you're not just putting them on your hair – you're putting some of them in your hair. That's why it's important to understand exactly what ingredients you're using and how they can affect your hair on a day-to-day basis.
Hair is a balance of protein and moisture.
I like to imagine it as a scale – if you have a balance, your hair is happy. This balance is affected by the products you use on a daily basis which are made up of ingredients containing protein and moisture.
Protein: What It Is and How To Look For It
Protein in haircare lends strength, elasticity, and shine. It can patch weaker spots in the cuticle and is responsible for your hair's overall structure. Think of protein as adding stiffness – without a certain level of stiffness, curls can't hold their form.

Here are some common words you should look out for on ingredients lists:
Corn
Oat
Soy
Quinoa
Wheat
Rice
Silk
Keratin
The word "hydrolyzed"

Note: This just means "to break down." Certain proteins need to be broken down into smaller pieces in order to be used in hair products. Note that not all ingredients with the word hydrolyzed will be protein – Google is your friend if you're unsure!

Amino Acids
Peptides
Note that cosmetics ingredients are listed in the order of concentration – just like food! Therefore, a product with protein higher on the list will be higher in protein. It's that simple! Let's look at a few examples. I've bolded all of the protein ingredients in each!
Example 1: Briogeo Curl Charisma Gel – HIGH Protein
Water, Polyquaternium-37, Oryza Sativa (Rice) Amino Acids, Hydrolyzed Quinoa, Persea Gratissima (Avocado) Oil, Glycine Soja (Soybean) Oil, Lactobacillus/Solanum Lycopersicum (Tomato) Ferment Extract, Aloe Barbadensis Leaf Juice, Tocopheryl Acetate*, Panthenol, Citric Acid, Hydrolyzed Keratin, Sorbitol, Keratin Amino Acids, Citrus Aurantium Dulcis (Orange) Peel Oil, Citrus Grandis (Grapefruit) Peel Oil, Santalum Album (Sandalwood) Oil, Vanilla Planifolia Fruit Extract, Citrus Tangerina (Tangerine) Peel Oil, Cananga Odorata Flower Oil, Stearoyl Coa-Desaturase (SCD-1)*, Stearamidopropyl Dimethylamine*, Fragrance, PPG-1 Trideceth-6, Polyquaternium-10, Polyquaternium-72, Propylene Glycol Dicaprylate/Dicaprate*, Dehydroacetic Acid, Benzyl Alcohol. *Coconut, Vegetable, Plant, or Sugar Derived.
Example 2: Shea Moisture Curl Enhancing Smoothie – LOW Protein
Cocos Nucifera (Coconut) Fruit Juice, Water, Glycerin (Vegetable), Cetearyl Alcohol, Butyrospermum Parkii (Shea) Butter, Cetrimonium Chloride, Polysorbate 60, Cocos Nucifera (Coconut) Oil, Oleth-10, Panthenol, PEG-150 Stearate, Steareth-20, Mangifera lndica (Mango) Seed Butter, Persea Gratissima (Avocado) Oil, Macadamia Ternifolia Seed Oil, Daucus Carota Sativa (Carrot) Seed Oil, Aloe Barbadensis Leaf Juice, Hydrolyzed Silk, Hibiscus Rosa-Sinensis Flower Extract, Tocopherol, Melia Azadirachta Seed Oil, Fragrance (Essential Oil Blend), Triethyl Citrate, Caprylyl Glycol, Benzoic Acid
---
So how often do I use protein? My hair LOVES IT. I use it in some capacity during every wash. How often should you be using it? Well, that's up to you to figure out. Take a look at the products on your shelf, determine if they're high or low in protein, and do some experimenting!
Moisture: What It Is and How To Look For It
Curly hair is naturally drier than straight hair due to the way the cuticle lays, making it a lot more susceptible to moisture loss. In addition, it's a lot harder for our natural oils to travel down the hair shaft, meaning it's not effectively sealing moisture within our strands.
Typically, products that are moisturizing are what you'd expect – you'll find it in conditioners, leave-ins, and creams.
Note: Of course, other products can be moisturizing – most gels have moisturizing ingredients as well! However, where you'll find the MOST moisture is important here!
Even though it's obvious that these products contain moisture, it's still important to take the time to learn about these ingredients and where they're falling on the ingredients lists. Let's take a deep dive into the common ones!
Emollients
These ingredients form a film on the surface of the cuticle which seals in moisture. In addition, emollients can smooth the cuticle, leading to softness and shine. Here are some common emollients:
Fatty alcohols – NOT to be confused with drying alcohols, these are good for you!

Ex. Lauryl alcohol, cetearyl alcohol, myristyl alcohol, cetyl alcohol, stearyl alcohol, behenyl alcohol

Butters

Ex. Shea, jojoba, cocoa butter

Oils
Humectants
Humectants promote moisture retention by attracting water molecules, binding them to your hair which results in soft and bouncy curls. Common humectants are:
Glycerin
Propylene Glycol
Panthenol
Agave
Honey
Aloe
Aloe actually has humectant AND emollient properties and is a super common ingredient in curly hair products.
---
Let's take a look at an ingredients list to determine whether it's high or low in moisture:
Bounce Curl Leave-In – VERY Moisturizing
Water, Cetearyl Alcohol, Simmondsia Chinesis (Jojoba) Seed oil, Ethylhexyl Palmitate, Olea Europe (Olive) Fruit oil, Glyceryl Stearate, Astrocaryum Murumuru Seed butter, Argania Spinosa Kernel oil (Argan oil), Butyrospermum Parkii (Shea) Butter, Persea Gratissima (Avocado) Oil, Rosa Centifolia (Rose oil), Citrus Aurantium Amara (Neroli) Oil, Tocopheryl Acetate (Vitamin E), Behentrimonium Methosulfate, Cetrimonium Chloride, Biotin, *Nigella Sativa (Virgin Black Cumin) Oil, Trigonella Foenum-Graecum (Fenugreek) Seed Extract, Phenoxyethanol, Ethylhexylglycerin, Fragrance (Phthalate Free).
---
So how often do I use moisture? It's in every product, in every single wash! Unlike protein, it's not necessarily an ingredient you can choose to use – you're using it every time you wash and style your hair. However, you can choose to give yourself more – for example, I deep condition fairly often because my hair sometimes needs the extra moisture. But otherwise, you can't escape it!
Some products contain protein AND moisture.
To make this a little more complicated – some products contain protein and moisture.
Let's look at Cantu Curl Activator as an example. This product has protein…but it's pretty low on the list. In addition, there are TONS of moisturizing ingredients in this product. If I needed more protein, I definitely wouldn't reach for this!
(Moisturizing ingredients bolded, protein ingredients italicized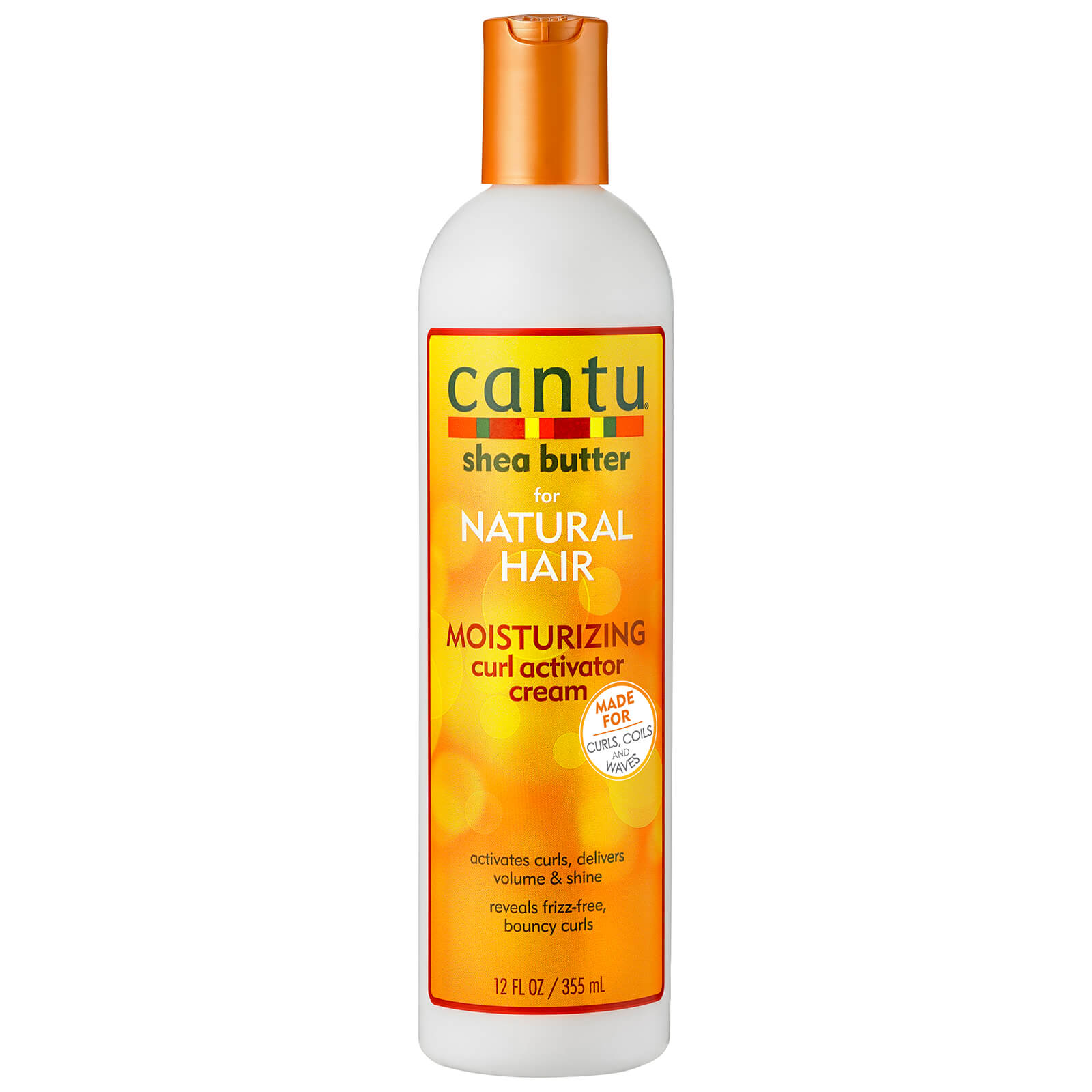 Water (Aqua, Eau), Glycerin, Propanediol, Cetearyl Alcohol, Butyrospermum Parkii (Shea) Butter, Fragrance (Parfum), Polyquaternium-10, Stearyl Alcohol, Cocos Nucifera (Coconut) Oil, Aloe Barbadensis (Aloe Vera) Leaf Juice, Simmondsia Chinensis (Jojoba) Oil, Glycine Soja (Soybean) Oil, Prunus Amygdalus Dulcis (Sweet Almond) Oil, Persea Gratissima (Avocado) Oil, Olea Europaea (Olive) Fruit Oil, Mangifera Indica (Mango) Seed Butter, Argania Spinosa (Argan) Kernel Oil, Melia Azadirachta (Neem) Seed Oil, Daucus Carota Sativa (Carrot) Seed Oil, Lonicera Japonica (Honeysuckle) Flower Extract, Laminara Cloustoni (Sea Kelp) Extract, Salvia Officinalis (Sage) Leaf Extract, Macadamia Ternifolia (Macadamia) Seed Oil, Vitis Vinifera (Grape) Seed Extract, Urtica Dioica (Nettle) Extract, Silk Amino Acids, Behentrimonium Chloride, Cetyl Alcohol, Polyquaternium-11, Polysorbate-60, Phenoxyethanol, Ethylhexylglycerin, Coumarin, Benzyl Benzoate, Hexyl Cinnamal.
Let's look at another example – Bounce Curl Light Creme Gel. We have some protein pretty high up, and a fair amount of moisture. However, given the fact that this is a gel, and taking into account how much moisture there is relative to the amount of protein, I'm still going to call this a high protein styler and wouldn't reach for it if I needed more moisture.
Water, VP/VA copolymer, Glycerin, Hydrolyzed Jojoba Esters, Jojoba Esters, Hydrolyzed wheat protein, Hydrolyzed Oat protein, Aloe Barbadensis Leaf Extract, Panax Ginseng root Extract, Salvia Officlnalis (Sage) Extract, *Nigella Sativa (Virgin Black Cumin) Oil, Boswellia Carter Oil, Aminomethyl Propanol, Carbomer, Sodium Phytate, Caprylyl Glycol, Hexylene Glycol, Phenoxyethanol, Citric Acid, Fragrance (Phthalate Free).
Use these examples as a guide when you evaluate the products on your shelf!
Overdoing It – What Happens If You Use Too Much Protein and Moisture
In an ideal world, you could use some protein and some moisture and be in perfect balance all the time.
But it's not that simple.
Every time you use a product, the balance of your hair shifts. This balance is especially affected by our stylers – the products that we leave on our hair. So if you don't pay attention to what your hair needs or what products you're using, it's easy to throw your hair off balance.
Let's look at a couple examples of what could happen when your hair gets off-balance.
Protein Overload
When you overdo high protein stylers and don't give yourself enough moisture to compensate, you risk throwing yourself into protein overload.
Here are some of the symptoms you should look out for:
Stiff
Brittle
Breaks Easily
Frizzy
Straw-Like
And here's how to fix protein overload:
Clarify
Deep Condition
Lighten up on high protein stylers
Rotate your stylers
Add in more moisturizing stylers
Here's a real life example from when I had used too much protein. Here, I had used Bounce Curl Light Creme Gel over and over and over again…without using any moisture to compensate. Over time, my hair became stiff and frizzy. Thinking more gel could fix the problem, I continued to use my high-protein stylers. BAD IDEA. I realized something was wrong, deep conditioned, and made sure I was using a cream under my gel. After a bit of time, I was back to normal!
Overmoisturization
As a curly girl, this is SO EASY TO DO. As curlies, we tend to think more moisture is better, but that is definitely not always the case! (Read my rant on this topic here!)
I've gotten messages from people who use a leave-in, a cream, a mousse, another cream, and then a gel, and wonder why their hair is feeling limp and lifeless. It's because they're using WAY too much moisture.
If you're just starting out, I recommend keeping it simple. Use one moisturizing styler (ie a leave-in or a cream) and then a gel – that's it. Because if you overdo the moisture, you can end up with overmoisturized hair.
Here are the symptoms to look out for:
Limp
Lifeless
Not really curling
Frizzy
"Mushy" or "gummy" feeling
Overly soft
Super elastic and stretchy
Here's how to fix:
Clarify
Protein treatment – my personal fave is a rice water rinse!
Add in some more high protein stylers (especially in your gel)
Cut back on moisturizing stylers
Try going gel only
Here's a real life example of when I used too much moisture. I had deep conditioned…and then conditioned afterwards, because why not? (Note: don't do that!) I then had used a ton of cream during my wash and seriously overdid it. My hair felt super mushy and gross and just wasn't curling right. To fix, I used Bounce Curl Gel only (high protein!) and cut back on a lot of the moisturizing stylers in my routine until my hair got back to normal.
With both protein and moisture overload, keep in mind that it's not going to get better overnight. It may take a couple washes for you to feel completely back to normal!
Achieving Balance
In addition to your hair not getting better overnight when recovering from overload…it's important to note that overload doesn't happen overnight either. It's typically formed as a result of symptoms being ignored over time.
If you pay attention to what you're using and what your hair needs, you can stop your hair from going into overload before it happens.
So let's discuss how we can achieve balance! As previously mentioned, as you style in a typical week, your metaphorical scale will start to tip one way or another.
Example 1
Let's say I wash 3 times a week. For two of those washes, I style with a high protein gel ONLY.
At the end of the week, my hair might be tipped toward a little bit too much protein. It won't be overloaded, and it'll still look great, but it'll be in need of a little moisture.
In order to bring myself back to baseline, I might deep condition during my third wash, or rotate my products and use a low protein styler. The key is that I fixed my problem BEFORE my hair became overloaded with protein.
Example 2
Let's say I wash three times with a super moisturizing cream and a gel with no protein. At the end of the week, my hair might be in need of a little protein. To bring myself back to baseline, I might do a rice water rinse, or rotate my products and use a high protein styler.
Cheat Sheets
I just threw A TON of info at you! if you need a quick and easy way to remember this info, screenshot these!
In Conclusion
The best way to keep your hair in check is to take a pause and think about what you're doing in a typical week. Are you using a lot of protein or a lot of moisture? How will you adjust for that?
How you adjust just depends on your preference! If your favorite stylers are high protein – keep using them! Pay attention to how your hair behaves in a typical week and how you can alter your routine as needed to get your best hair.
The goal should be to NEVER let your hair get overloaded. I truly believe that protein moisture balance is the key to unlocking consistent curly girl wash days and figuring out why your hair is acting the way that it is.
Good luck, and leave me a comment if you have any questions!
Want more @brittcurls content? Follow me on Instagram here.